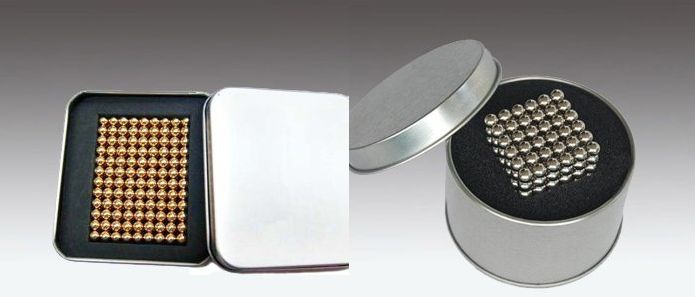 A fun puzzle toy made by 216pcs strong Neodymium Iron Boron (NdFeB) Magnet balls. can provide you hours of enjoyment in endless types. that¡¯s very hot product at current. Main specs of our neocube:
Material: ?Made by 216pcs high quality standard N35 or N38 Neodymium magnet balls.
Diameter: ?4mm,4.8mm,5mm,6mm,7mm,8mm,9mm(tolerance+/-0.02mm)
Color: ??gold, silver,black nickel, blue, red colors
Magnetic force(N35grade):? 5mm 5000-5400guass,6mm 5400-5800guass,7mm 5800-6200guass
Package: PE bag/plastic bottle/velvet pocket/round metal gift tin box/vacuum package/blister or OEM as your package design, and special design master carton box can protect the neocube package.
Warning: please keep away from younger children and pets!
One of the great benefits of your NeoCube is the ability it has to alleviate stress.
The power of the NeoCube to banish stress is innate within it¡¯s construction; 216 individual magnetic spheres make up your NeoCube and give it properties unlike any other item on earth.
Like many other stress relief devices on the market, your NeoCube can be manipulated, mangled, crushed and distorted to ease your mood.
Your NeoCube sets itself apart from other stress relief devices in many ways, such as your ability to completely rend the NeoCube apart and put it seamlessly together again.
As you knead the NeoCube in you hands makes an a very soothing audible ¡°clack¡± much like a never ending piece of bubble wrap. Another way the NeoCube excels at stress relief is the unique tactile sensation that only the can offer.
Many believe the magnets themselves can be beneficial to one¡¯s health. It has been said that powerful magnetic fields such as those produced by the NeoCube can be effectively used to relieve stress.
Perhaps the most relaxing property of the NeoCube is when it takes shape. Your NeoCube has billions of solutions that you can make. Successfully creating anything of beauty comes with a real feeling of accomplishment and pride.
But how can a toy make me feel good about myself? Easy.
Everyday we work, we toil and we task. From dawn to dusk, we do things we would rather not be doing and it is rare that anything we do results in something we can be proud of, or something beautiful. With the NeoCube, it is easy to create objects that you will be proud of, many of the shapes being absolutely unique, never before created in the universe.
Go ahead and be proud of yourself; you deserve it!